Babe lake tour , adventure travel in the largest natural lake in Vietnam.
It is located in Nam Mẫu commune, Ba Bể district, Bắc Kạn Province in the Northeast region of the country. Having been formed approximately 200 million years ago, the lake is surrounded by limestone cliffs, which in turn are covered by primary forests. Then keep trekking tour to he golden rice field on terraced fields in Hoang Su Phi district (Ha Giang province) is at the right time, and the "Unique" cultural activities of the "Heritage site".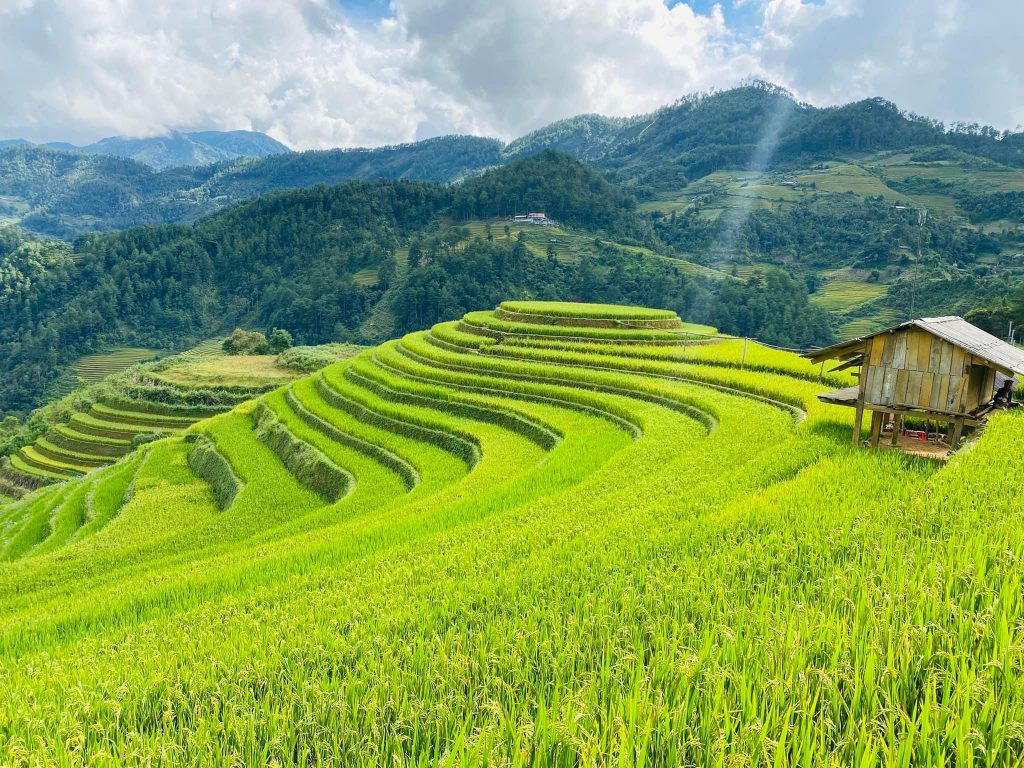 Day 1: Hanoi – Thai Nguyen – Ba Be National park
Travel north along High way 3 to Thai Nguyen for a stop to enjoy a lunch of traditional Vietnamese food. Worth a visit here is the Museum of the Cultures of Vietnam Ethnic Groups. Leaving the delta behind, you'll start climbing into the mountainous area of Ba Be National Park. Take a short boat trip (60 minutes) to a Tay village for dinner and homestay at local house. ( L,D )
Day 2: Ba Be – full day trek
Ba Be National Park, surrounded by rugged limestone mountains, is Viet Nam's only natural mountain lake. This important eco-system is best known for its over 330 species of butterflies! Enjoy home-made breakfast and start our trekking day. Moving by motorbikes for beautiful, short ride to reach trekking point where we begin a day trek to villages of Tay ethnic minorities. We may across a small but lovely stream on the way.
Keep further walk to a Tay village where we stop for a break and pinnic lunch. Enjoy hiking through the forest through mountains and valleys where you will see beautiful stilt houses of original designs and materials and following a nice road along the lake and witnessing local ethnics trading their home-made products.
Turn back to Tay villages and free time the rest of the day. Dinner and overnight at the homestay. (B,L,D)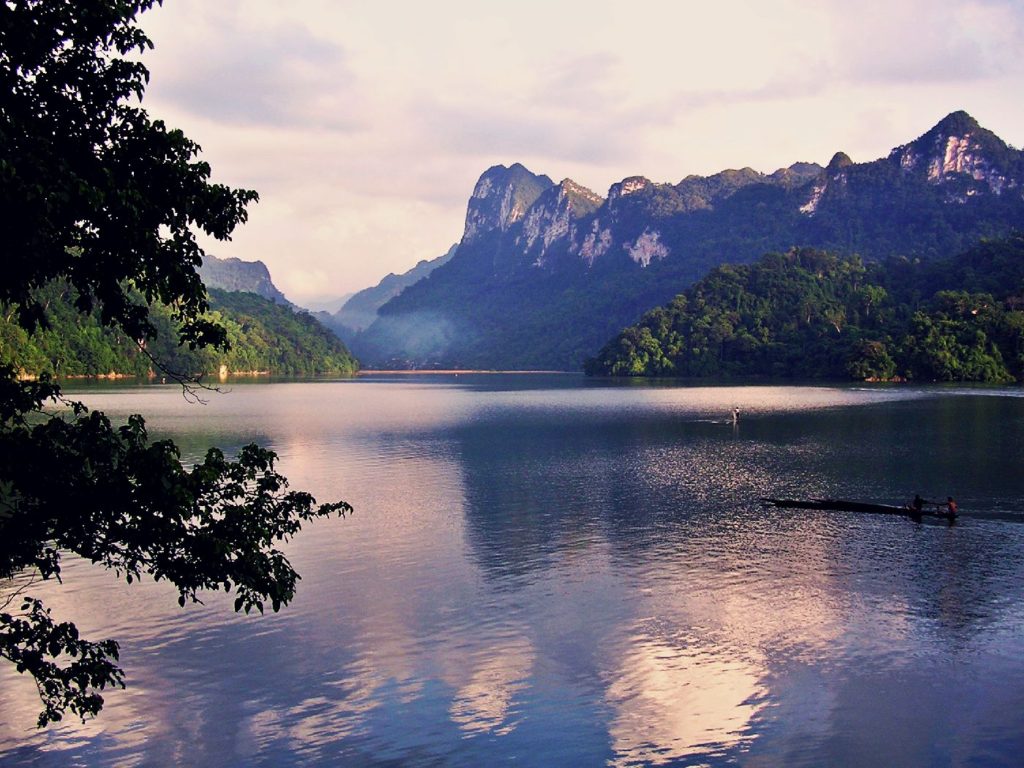 Day 3: Babe –Thong Nguyen- Nam Hong(B, L, D)
Depart from Babe lake at 08.00am taking a full day to transfer the 285 km to Quang Binh- Thong Nguyen- Townlet. Then follow a narrow provincial road for to Thong Nguyen with several stops to visit the villages of the Tay ethnic
tribes. We will take lunch in Ha Giang City and arrive in Thong Nguyen Townlet at about 4.00pm, transfer to Nam Hong villages . Dinner and overnight in Home stay
Day summary: Transfer 275 km, approx.6 hours/ Some short walks along the way/ Acc: Local home stay in Nam Hong.
Day4: Nam Hong- Nam Son (B, L, D)- Trekking
Breakfast, check out of your homestay and depart at 08.00 am. Starting point of the trekking trail. It is an easy walk through the valley and terraced rice paddies for over 2 hours to a village of the Dzao ethnic peoples. Explore the village and then take a lunch break. In the afternoon the trek takes nearly 4 hours going up and down hill through plantations, rice paddies and especially the palm forests of the hilly land of the Tan Nam Commune. We will pass some hamlets of the Black Zao and larger villages of the hospitable Nung ethnic peoples, arriving at the centre of Tan Nam at about 5.00 pm. Explore this beautiful village in your free time before dinner. Home stay in a house of the local Dzao people.
Day summary: Transfer 5 km/ Trekking 6 hours, approx.17 km, grade 2 of 5/ Home stay in Village of the minority people of Dzao
Day5 Nam Son- Ho Thau (B, L, D): Trekking
Depart at 08.30am after breakfast at the home-stay. The trek today is easy along a large village path which connects this village to other villages of the Zao Ao Dai (Zao with long dress), Tay and Nung ethnic peoples, all beautifully set along the Nam Ly River. We pay visits to many local homes along the way and everywhere people welcome visitors and treat them hospitably.
The trek in the afternoon goes uphill slightly to Phieng Lang. This region is inhabited mostly by the Zao Ao Dai peoples and several Flower Hmong who traditionally and practically build their homes on hill tops and cultivate the surrounding land to create perfect dwellings. We arrive in Phieng Lang in the mid afternoon, and then take a leisurely walk to explore the surrounding countryside. Dinner and the home stay will be in a stilt house of the Hill tribel Red Dzao
Day summary: Trekking 6 hours, approx.17 km, grade 2 of 5/ Home stay in Phieng Lang of the Red Zao.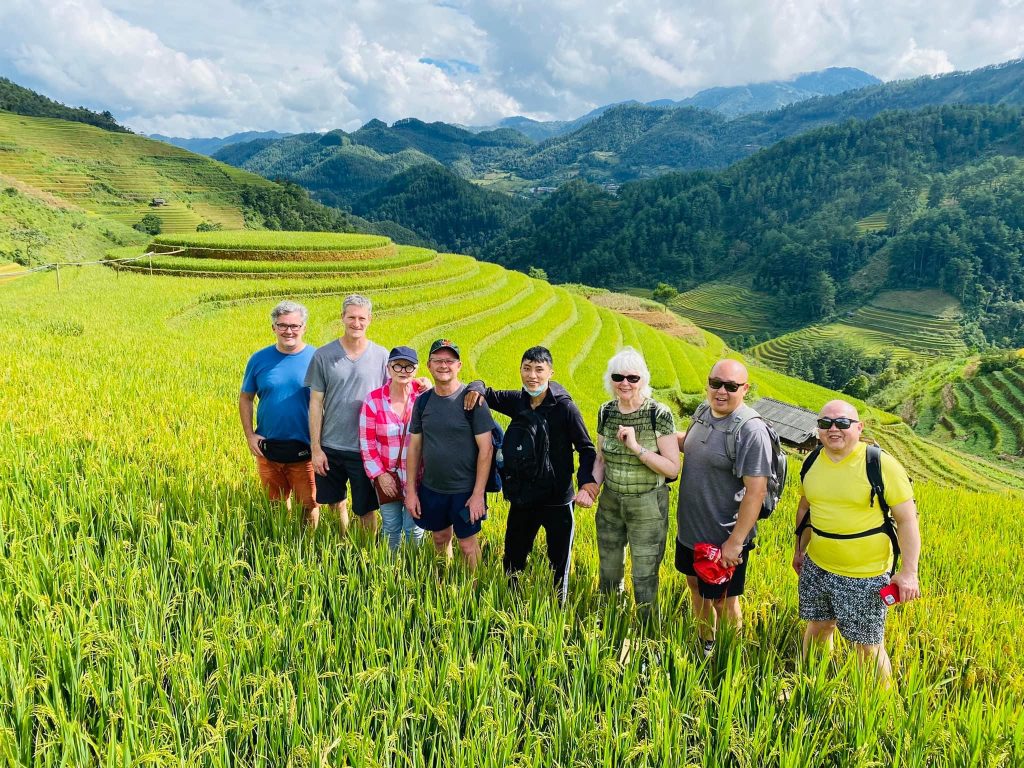 Day6: Ho Thau- Quang Nguyen (B, L, D) Trekking
After breakfast, leave Phieng Lang at about 08.30 am, to enjoy another day trekking along the beautiful Nam Ly Valley. There is a good trail which winds up and down on the high hillsides gradually going uphill for the whole morning via Pa Duc village to Quang Thuong. These people are very different from the Nung and Tay, who live in large villages in the lower lands. The Hmong and the Zao Ao Dai occupy the higher lands and build their houses all over the hill-tops. This part of the trek offers one of the most beautiful views in the far north.
Lunch break and then descend along a narrow trail passing through tea farms and steep terraced paddies for 2 hours to Nam Chong Village of the Zao Ao Dai. Explore the village and settle down in a local home by the hot spring for dinner and overnight H'mong home stay
Day summary: Trekking 5 hours, approx.14 km, grade 2 of 5/ Home stay.
Day7: Quang Nguyen – Che La (B, L, D) Trekking
Depart at 08.30 am. Trek along a narrow trail along the Nam Ly River for an hour to the centre of Quang Nguyen Commune, then turn off on to a tough trail going steeply uphill for 2 hours through Quang Vinh Village passing the villages of the Nung on the low land and Red Zao and Zao Ao Dai on the higher land.
Lunch break and then we must be prepared for the most challenging part of the tour: To get over the Nhin Co San mountain. The trail becomes narrow and very tough in parts, going uphill through the thick rain forest and later bamboo forests for nearly 3 hours till we reach Coc Cang village of Che La Commune.
Continue along the same trail for 1,5 hours passing some hamlets of the White Hmong to Che La Village of the Nung peoples. Dinner and home stay here.
Day summary: Trekking 6 to 7 hours, approx.17 km, grade 4 of 5/ Home stay in Che La Village of the Nung people..
Day8: Che La– Coc Pai- Bac Ha (B, L, D). Trekking
It is an excellent day today! Leave Che La for nearly 1 hours uphill trek along a trail sneaking amidst the high mountains, passing several hamlets of the Flower Hmong, who always occupy the highest elevation. Arrive at Coc Re at noon and enjoy a lunch break in a local restaurant after hanging around the Coc Re market place to catch a glimpse of local life here.
Descend for the whole afternoon, passing through some narrow valleys with marvellous terraced paddies and newly planted forests til we reach Coc Pai, the townlet of Xin Man District. Transfer to Bac Ha , take rest and shower . Overnight in Bac Ha.
Day summary: Trekking 6 hours, approx.17 km, grade 3 of 5/
Day 9: Bac Ha – Hanoi (B, L)
in the morning take walking tour ( 1 hour, ) Free time until transfer back to Hanoi by bus. End of services in your hotel in Hanoi
Price : contact : marcopolotravel@gmail.com
Inclusions:
All accommodation at hotel and home stay in village
Meals as mentioned (B= Breakfast, L= Lunch, D= Dinner)
English speaking guide, sightseeing fees and permits
Tours and transfers as mentioned by private air-conditioned vehicle
Cook and porter
water and soft drink
Power bar and nutritional
sleep bags
Boat trip in Babe lake
Exclusions:
Visa to Vietnam, departure airport taxes
• Personal travel & medical insurance, all personal & daily expenses
• Gratuities and tips for drivers and guides, things not mentioned in the program
What to bring: Suitable walking shoes, raincoats, jackets, torch, insect repellent and sunscreen