Son Doong cave trekking
Son Doong Cave is in the heart of the Phong Nha Ke Bang National Park in Quang Binh province. Just recently explored in 2009-2010 by the British Cave Research Association, the cave has only been open to the public for a year. Be some of the first still in the world to see this spectacular place with a journey deep into the jungle and into the abyss on our out-of-this-world Son Doong Cave Expedition. Imagine trekking straight into the depths of the world's largest cave on an expedition unlike any other.A cave that can fit a 747 flying through its largest cavern. A space where you truly don't believe it's possible that you are still on this earth at all. Foreign landscape, enormous stalacmites and statuesque stalactites, hanging from the ceiling and rising from the ground like an alien species. A jungle within a cave, that's almost so unreal that you have to see it to believe it. Misty clouds enveloping the whole scene, evidence of the cave's own weather system. Fossil passageways that give proof of the cave's ancient existence.As you approach the jungle just outside the entrance, the rush of cool wind that cascades out brings to life everything inside of you. It's misty, cold and exhilarating; it's apparent that there's something magical waiting just beyond the entrance to the cave.The entrance to the cave was originally found by a local jungle man, Mr. Ho Khanh, in 1990, and then Howard and Deb Limbert of the BCRA led the first discovery expedition into the cave in 2009. Son Doong Cave is now distinguished as the largest cave in the world and has understandably been the attention of many film companies such as the BBC, National Geographic, and many more. It was also prominently featured in National Geographic Magazine in 2011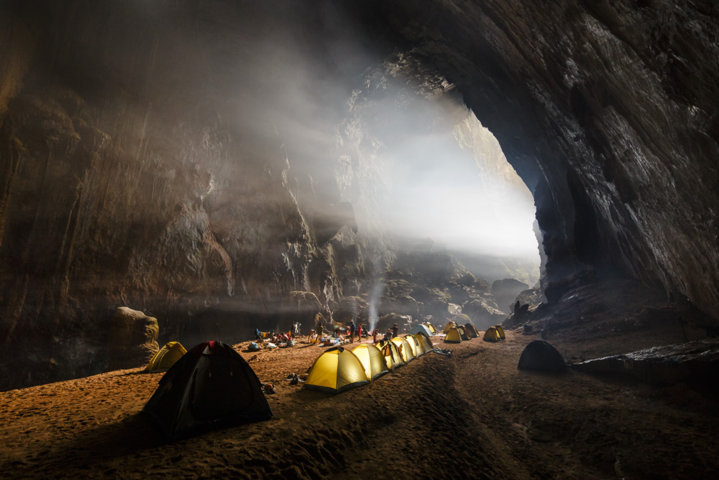 Tour itinerary :
Day1 :Dong Hoi – Safety Briefing – Saigon Phong Nha Hotel
Arrive in Dong Hoi by no later then the afternoon of day 1 where you will be met by our guide and transferred to Phong Nha Ke Bang National Park .You'll be dropped off at the Saigon Phong Nha Hotel where you'll have the rest of the day to rest, relax and wander around the village. You will be required to purchase your own breakfast and lunch on this first day.At 5:30 pm you are required to meet in the hotel restaurant where you'll meet your cave experts and guide team for your safety briefing and equipment check . Please have all belongings you'll be taking on the trek prepared in your room before the safety briefing as immediately after we will collect everyone's belongings in individually labeled large plastic bags, and send them to our porters to prepare for the following day. You will receive your belongings each evening once you get to your campsite. Therefore, anything you want to take with you during the day you should keep in a separate small back pack (e.g. cameras, tripods etc.).Enjoy dinner with your team at around 7:30 pm at the hotel restaurant
Day2:Phong Nha – Ban Doong Village – Hang En Cave
Enjoy breakfast at the hotel at 8:00 am with your guide before departing at 9:00 am for the first leg of the expedition.
You'll make a brief stop at the market to pick up any last minute supplies, as well as the Oxalis office to drop off your luggage and any valuables. After a 45 mins drive along Road 20 of the Ho Chi Minh Highway you'll reach your trekking point, where you'll start trekking for approximately 1 hour downhill through the forest, which is quite steep at times. Walk for half an hour along a small stream to the minority village of Ban Doong, which is a real highlight for many on this expedition. Learn more about this unique ethnic group of people and enjoy lunch beside a small river. After this point, you will be in the sun all afternoon with about 2 hours along a river, with very little shade. You'll cross the river many times and so will have wet feet for the whole day. In the summer, the water is only usually knee deep, but gortex boots will fill and hold the water so are not recommended. You'll then reach the entrance to Hang En Cave, home to thousands of swifts. Here you'll be given your headlight and helmet and trek/bouldering approximately 20-30 mins to your campsite inside the cave. The group should arrive at camp by 3:00 pm where you can enjoy swimming and washing within the underground river. Dinner will be served at the spectacular campsite with numerous photographic opportunities. Anyone who is unable to complete any stage of this first day comfortably will be turned around to Phong Nha and cannot join the expedition. No refund will be offered.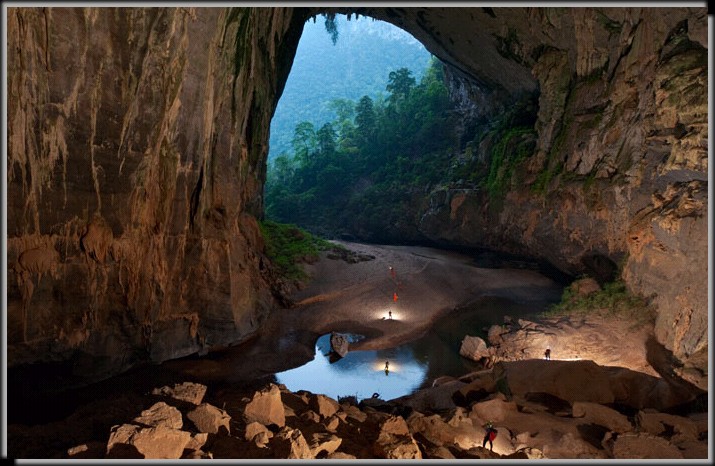 Day3 :Hang En Cave – Son Doong Entrance – Hand of Dog – SD Camp 1
You'll again begin your day with a delicious breakfast at around 8:00 am. You'll be in for a very tough day today so its best to enjoy a big breakfast, as you'll need your energy! Start your trek at 9:00 am through Hang En Cave for about 30 mins to reach the magnificent exit, made famous by many a photographer over the past few years. You'll scramble down to the river valley and then it's an hours walk through the river, so you're boots are going to be wet for most of the day and it is unavoidable! You'll then start climbing a big hill with a couple of rope sections where you'll need to pull yourself up, and in one point strap into a safety line. You're then at the entrance of Son Doong Cave where you'll enjoy lunch and countdown to your big journey underground! With your safety harnesses, you'll then start the 80 m decent into the cave by making a number of short climbs, using ropes and safety lines and with your guides' assistance. There is no rappelling or abseiling involved. You'll then enjoy a few more climbs and bouldering to reach the first and second river crossing inside the cave, which is no more than knee-to-thigh deep depending on the water levels. You should have a wash here, as it will be the last place before reaching your first campsite in Son Doong Cave! On your way to the first campsite in the first large passage of the cave, you'll have to be extra careful as there are a number of big drops along a rocky path before reaching one of the most spectacular views: Hand of Dog and daylight streaming through the cave thanks to the first doline! You will then scramble down to your campsite and have the afternoon to soak up the views and rest your weary bodies. You're in for another big meal with your team before turning in for the night. There are no washing facilities on this day.
Home-stay
Day4: SD Camp 1 – Watch out for Dinosaurs – Great Wall of Vietnam – SD Camp 2
Your day begins with a hearty breakfast with your team before a 9:00 am departure towards your second campsite in Son Doong Cave! You'll start with some rocky climbs, which are quite steep in some places, as you reach the first jungle within the cave at Watch Out For Dinosaurs. After a short break you'll be trotting down the rocky path to reach the enormous Green Gours! A light lunch is provided with an incredible backdrop of the first doline. If you are lucky you may even catch some sunbeams, which make for truly spectacular photographs! It is then an easy walk through the cave past gigantic formations and plenty of cave pearls towards the light of the second doline and main jungle within the cave. Follow the path past the beautiful foliage reaching towards the light, to reach the underground jungle, unlike anything you could experience on the planet! Cross the jungle for around 45 mins to reach the steep and sometimes slippery path down to your second campsite within Son Doong Cave. After a short rest at your campsite, you are back on your feet and heading deeper within the cave towards the Great Wall of Vietnam! You'll pass through a very large dry passage with huge stalagmites and great views back to the second doline. Many new creepy crawlies have been discovered within this passage including white spiders, fish, woodlouse and shrimp species! You will reach at this point a very large beautiful underground lake, where you'll then paddle to reach the Great Wall of Vietnam, or you will find a muddy pit for hundreds of meters, at which you will need to trudge your way through to reach the wall. It is entirely optional if you wish to go further and reach the actual wall, as you will get very dirty in the mud and there are no bathing facilities on this day at camp (pack plenty of wet wipes if you decide on the plunge!). You'll again enjoy a fantastic dinner with your team and enjoy an evening of games and entertainment, or simply relax and enjoy the views at what is quite possibly the very best campsite in the world!
Quick note, you may use a pair of dry boots on this day, as aside from the mud there are no water crossings!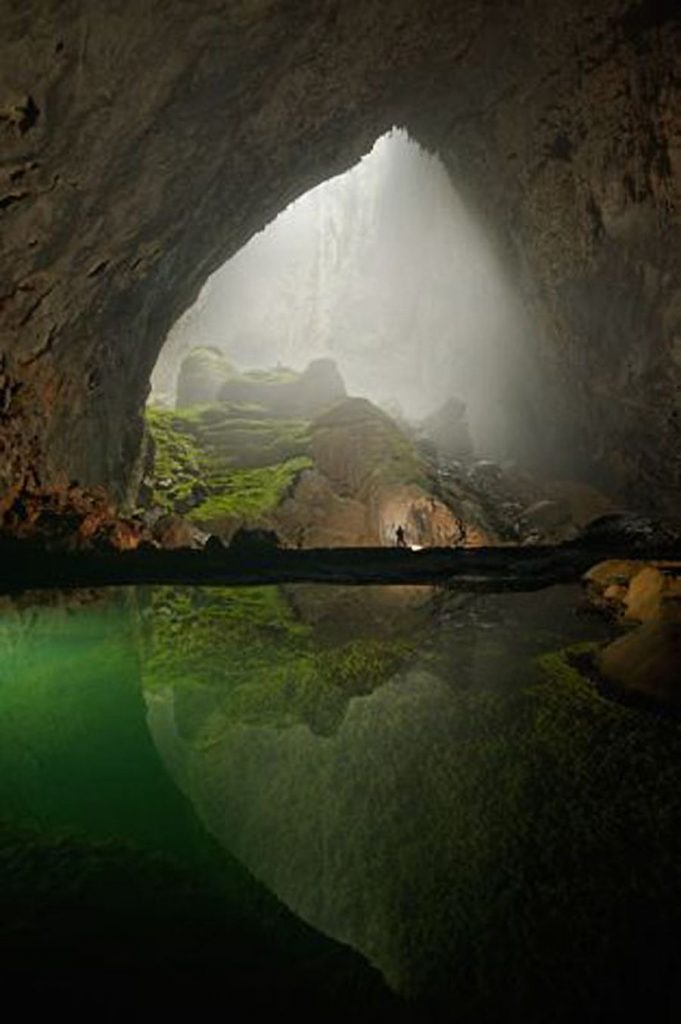 Day5:SD Camp 2 – Fossil Passage – Nat Geo View Point – Hang En Cave
After refueling with another hot breakfast you'll pack up camp and start heading back to the first doline, with a slightly different route through a small oxbow passage above the underground river with a very steep drop, where you will need to use a rope and safety line. Once you have reached your first campsite, you'll have time for a short break before climbing down to the ancient fossil passage, where you will witness 350 million year old coral fossils! Enjoy a small wash in the pools and a hearty lunch before climbing up to the National Geographic viewpoint. You will then descend back to the main passage, cross the river twice and proceed to climb up to the entrance, again strapped in with your harness and safety lines. At the entrance of Son Doong you'll have a chance to enjoy a small break and some snacks, before heading back towards the river valley, where you can enjoy a deserved wash! Walk along the river back to Hang En for your final evening and celebration with porter team at this underground campsite.
Day6:Hang En Cave – Ban Doong Village – Phong Nha – Dong Hoi
Wake early and after breakfast start your 10 km trek back to Road 20. You'll follow the river along the valley and back through Ban Doong Village. You will enjoy lunch along the way before starting on what is quite a difficult climb back up the mountain for the last hour of your big adventure! Cold drinks await you at the top of the hill before a 45 mins drive back to Phong Nha. You will have a brief stop at the office to collect your luggage and valuables as well as pick up a small thank you gift from Oxalis, before a final 45 mins drive to Sun Spa Resort in Dong Hoi. You can then enjoy a well deserved wash and either swim in the pool or enjoy the beach. There is also a good spa at the hotel if you would like to treat your body with some pampering! You're then free to grab dinner at any time you want with a voucher you'll be provided. Please advise the hotel of your departure time on the following day upon check-in so they can arrange your transfer back to the airport or train station.
Day7:Sun Spa Resort – Departure
Enjoy breakfast at the hotel (voucher provided) and your transfer to the airport will be arranged by the hotel reception. Be sure to give them your departure information.
Please let us know if you would like an additional couple of nights at the hotel and we can arrange! There are some great seafood options in Dong Hoi if you plan on staying an additional night!
OUR OVERVIEW
Duration:
7 days
Accommodation:
04 nights in camp, 02 nights in hotel ,
Activity:
 mountain walk
   Including
 Private car , hotel with breakfast, Local English speaking guide
 Best time to go
Year around
 Price:

| | |
| --- | --- |
| Group Size | 2- 10 |
| Price /person | 3,595 USD |

Note: Prices are based per person, double occupancy, with a separate cost for solo travelers. If you are traveling in a group but prefer single accommodations, a single supplement fee applies. Triple accommodations are not available in many of the destinations we visit.

this trip you need to booking in advance more than 1 year
Exclusions:
Visa to Vietnam, departure airport taxes
• Personal travel & medical insurance, all personal & daily expenses
• Gratuities and tips for drivers and guides, things not mentioned in the program
Important:
All itineraries are subject to change without prior notice.
What to bring: Suitable walking shoes, raincoats, jackets, torch, insect repellent and sunscreen
Important:
All itineraries are subject to change without prior notice.
Note:
We working and keep reservation from clients in internet by email
 We may not always have cruise , tours, holidays, travel available at certain time. Please contact us as early as you can.
All bookings must be paid deposit 50 USD/person for a cruise, 100 USD for tour before start your trip.
Deposit will be pay by paypal.
Booking or customize this tour , please contact:  marcopolotravel@gmail.com