No other trek in the Phong Nha-Ke Bang National Park is more authentic and remote than the Tiger Cave Series Adventure. These 3 caves are deep in the unspoiled jungle, far from the modern world. To reach these caves you will take a newly established route into the heart of the National Park.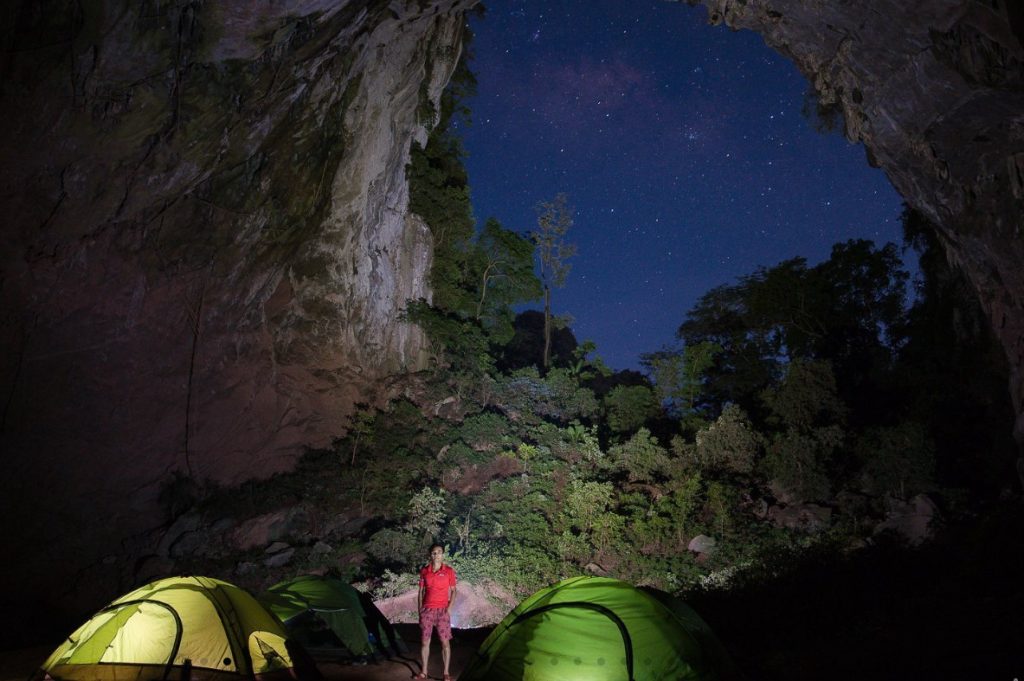 The Tiger Cave Series Adventure has been done by very few people. In fact, less people have been through these 3 caves than any other treks in the country. Being a freshly establish trail this route is an extremely authentic jungle trek to the Tiger cave Series, consisting of the "not so little" sister cave of Hang Son Doong, Hang Pygmy.
This trek is perfect for group adventures and those looking for an exciting challenge with an incredible reward. You and your company will camp, swim, and trek through the jungle for three days. You'll walk and scramble the 1.6km through Tiger Cave, explore the 3.2km of grotto decorations inside Hang Over Cave, and abseil into the massive cavern of Hang Pygmy, the 4th largest cave in the world.
Jungle Trek: 21km
Cave : 6.5km
Swim 300m
Abseiling & rock scrambling
Fitness Level: Very Strenuous
Minimum age: 15 years old
Day 1: Phong Nha – Road 20 Victory – Tiger Cave – Kong Collapse. Distance: 12km
Pick up from your hotel in Phong Nha area
9:00 Safety briefing at Jungle Boss Head Quarter
9:30 Set off by van about 45 minutes along the Road 20 Victory to the trek point
10:15 Start hiking though the jungle on a difficult terrain trail with a mixture of soil pathway and rock passage.
12:30 Lunch will be served during the trek when you get to the top of the wind slope.
13:00 Start hiking again for about two more hours up and down hill through the tropical jungle of Phong Nha – Ke Bang to reach the lower entrance of Tiger cave.
15:00 Arrive at the lower entrance of Tiger cave where you will be geared up to swim through the downstream passage of Tiger cave to reach Kong where is your campsite.
* In case of high water level which is not safe to swim, the guide will decide to take the upper passage to trek to Kong Collapse
15:30 Swim 300m through the lower passage of Tiger cave
16:00 Arrive at Kong Collapse by the end of the passage
16:00 – 17:00 Prepare campsite
17:30 Dinner at Kong Collapse and enjoy the rest of the night in one of the deepest sinkhole on earth.
21:30 Bed time for everyone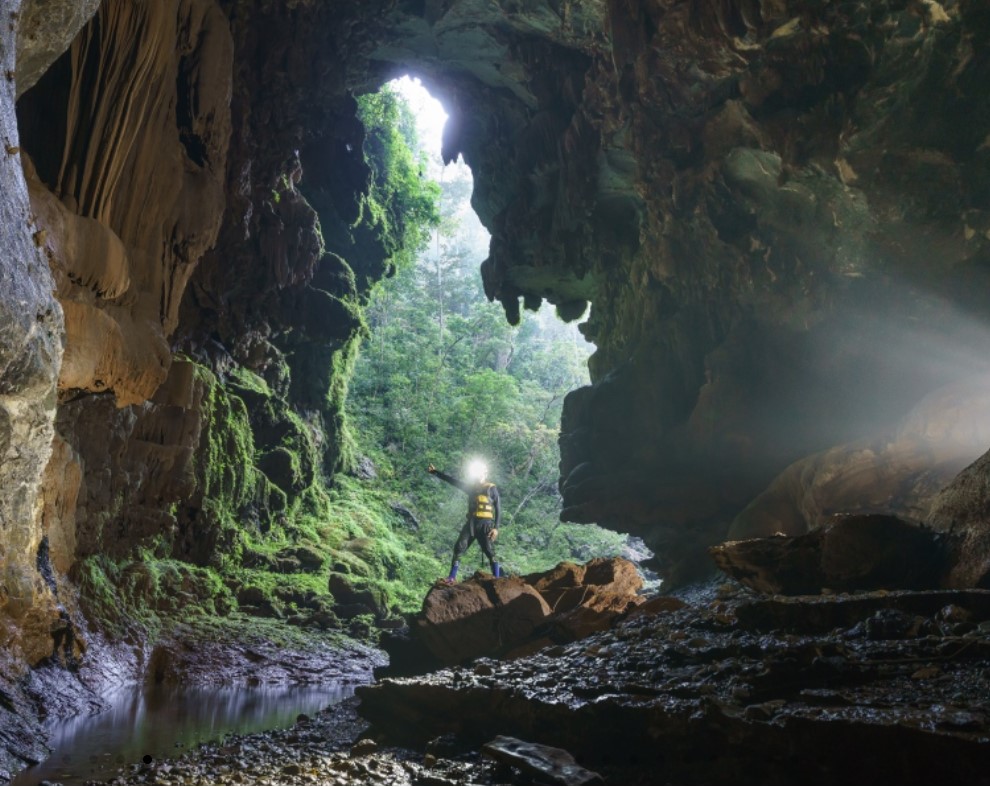 Day 2: The Tiger Cave Series (5.5 kilometers of cave awesomeness)
A day underground
8:00 Wake up for breakfast at Kong Collapse
9:00 Set off for Tiger cave, hang Over and hang Pygmy
9:00 – 11:00 Explore the upper passage of Tiger cave. This will require a lot of climbs over boulders and pass some river inside the cave
11:30 Arrive at the Swift exit of Tiger cave and trek through the jungle inside the doline between Tiger cave and hang Over cave
12:00 Picnic lunch at the entrance of hang Over cave
12:30 Start exploring 3,2km of hang Over. This will be a long time in the darkness while wandering inside huge cave.
13:30 Arrive at massive Attack inside hang Over cave. This is a huge chamber which is 125m wide, 80m high. There are a lot of strange formations. Awesome place for good photos
13:30 – 15:00 Explore the Massive Attack and walk to the exit of hang Over cave to hit the second doline between hang Over and hang Pygmy. There is a huge jungle inside the cave where you have to walk for about 20 minutes under a jungle in a cave.
15:20 Arrive at the exit of hang Pygmy and start exploring the fourth largest cave in the world with a transverse line of 80m along the edge of formations.
15:45 Arrive on top of Dinaseur Spike passage in hang Pygmy. Walk through the spike and then abseil for about 10m to drop down on the floor of hang Pygmy. Daylight from the big entrance can been seen from here.
16:00 Arrive at the main entrance of hang Pygmy which is 100m high and wide. Set up the basecamp at this huge entrance.
17:00 – 18:00 Photo time around the basecamp and the entrance of hang Pygmy
18:00 Dinner at basecamp
21:30 Bed time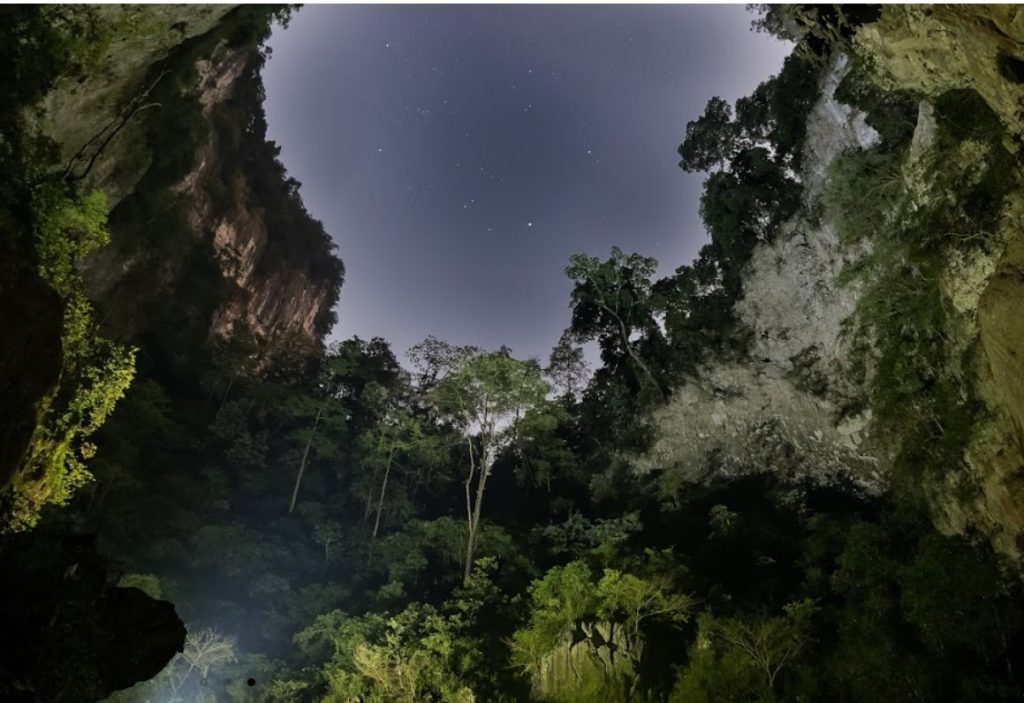 Day 3: Goodbye to the Tiger Cave Series and the trek home. Distance: 9km
8:00 Breakfast and cleaning up camp you will exit the cave system and begin the half day trek home.
9:00 Start trekking out of hang Pygmy entrance to reach different valleys and mountains
This will be a long trek out of the jungle with difficult terrain
10:30 Arrive a "Doc Co" known as grass slope which is quite slippery and steep hill. This hill will kill a lot of energy.
If it rains, you may have chance to see some water falls on the way
12:00 Some snack lunch will be provided during the trek
14:00 Arrive at the road to enjoy cold drink before the van arrive and transfer you back to Jungle Boss headquarter.
15:00 Arrive at Jungle Boss headquarter, clean up. Finish the journey
Includes
Tour Guide, Safety Assistant & Porter Team
Entrance Fees ( 1,300,000vnd/pax )
Transportation in Phong Nha
VAT
Safety Equipment
Camping gears
All Food & Drink
Snacks
Use of trekking shoes Euro sizes 36 – 45 (We suggest bringing your own shoes if these do not suit you. We do not suggest Goretex/waterproof boots as these take a long time to dry)
Use of towel
03kg of baggage carried by our porters