Ha Giang hiking is one of the most breathtaking places in Vietnam.
Ha Giang hiking is an adventure like no other - the winding roads, the breathtaking views, and the warm, friendly locals make each journey special.

From magnificent limestone hills to lush valleys and terraced rice fields, Ha Giang hiking offers some of the best hiking opportunities in the country. The Ha Giang trekking trip passes through a variety of landscapes from dense forests to mountain passes, allowing adventurers to get close up photos of Ha Giang's stunning scenery. In addition to its natural beauty, Ha Giang is also home to a number of tourist attractions such as Dong Van Karst Plateau Geopark and Ninh Binh Moonlight National Park. Whether you're looking for an invigorating Ha Giang hike or simply want something more leisurely, Ha Giang offers plenty of activities including sightseeing tours, cycling trips and cultural nights to explore the local culture. No matter what type of experience you are seeking, Ha Giang will not disappoint.
Trekking in Ha Giang – 5 best places & tips
While most travelers venture to Sapa for their trekking experience, between the rice fields and villages of Muong Hoa valley, many don't know that you can also do great trekking in Ha Giang. In fact, it is one of the best destinations for trekking in Vietnam. This province is mainly visited in the form of the Ha Giang loop, by motorbike or private car, but these same mountains offer great hiking opportunities.
Ha Giang trekking tips
Where to book your Ha Giang trekking
Most of our Ha Giang tours here have optional ad-dons to make a trekking for a day in Dong Van. Though we also do trekking of multiple days and in different areas in Ha Giang province. For this, you can just contact us and let us know what you would like to see and do, so we can arrange the perfect trekking experience.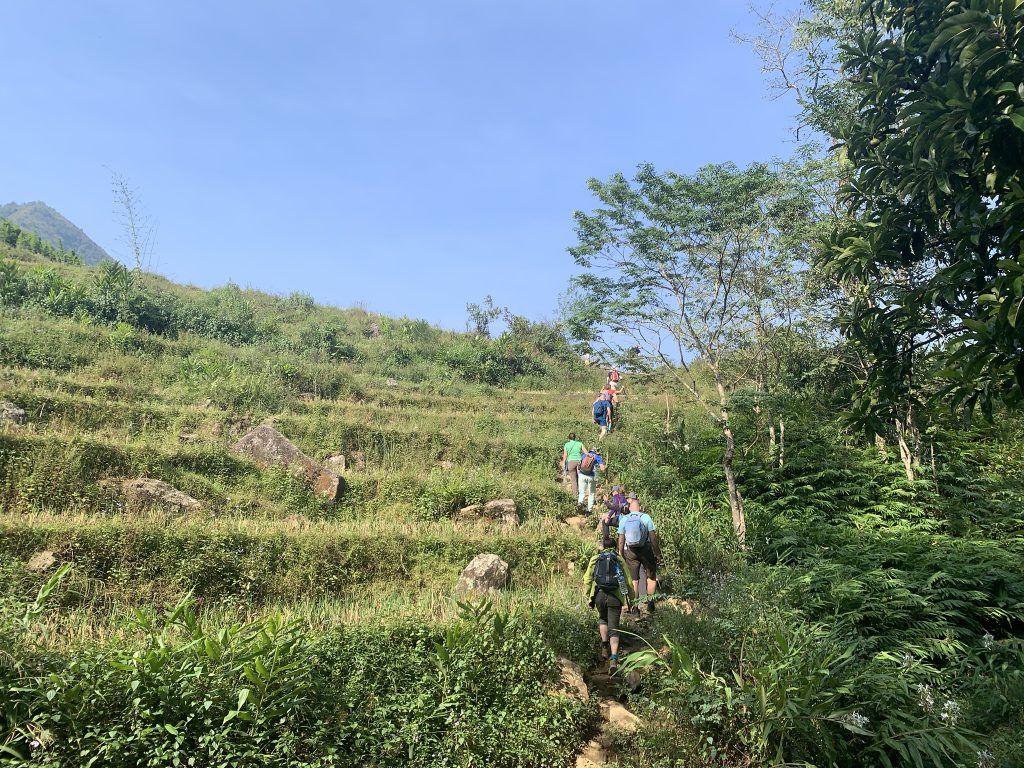 What to bring
Pack as light as possible to make your trekking comfortable. In the winter it can gets a bit colder, but it is better to wear layers that you can easily add or take off, then to bring warm sweaters. Proper hiking shoes or walking shoes are highly recommended. A tin jacket against the rain and as a windstopper is very useful too. Meals are provided in local homestays and restaurants along the way, but bring snacks if you easily get hungry, because there are not many shops on the way.
You can do trekking in Ha Giang all year, though in the summer months there is a lot more rain, especially in July and August. This can make trekking less comfortable and there is more chance at landslides.
December and January can be a bit colder, although this cool weather could be perfect for a longer trekking. In addition, in January it is flower season and in October to December it is Buckwheat flower season.
If you want to see the rice fields in Hoang Su Phi in full glory, you should visit at harvest season from September to begin October.