Hanoi walking tour stroll through Hanoi, you'll find yourself spoiled for choice when it comes to food options.
Let go on to discover the best of what's on offer on the streets of the Vietnamese capital.
Fresh, light and gluten- and dairy-free, Vietnamese street food is one of the healthiest cuisines in the world. It's also one of the most delicious, thanks in part to the liberal use of herbs, lime juice and chilli. And Hanoi is one of the best places to start getting to know it, and with  foods tour  you can enjoy a street food of the capital on our immersive
Here, you'll find some favoured Vietnamese street-food dishes, along with the best venues at which to sample them around the city.
Here are our picks for dishes you must try when visiting Hanoi by cycling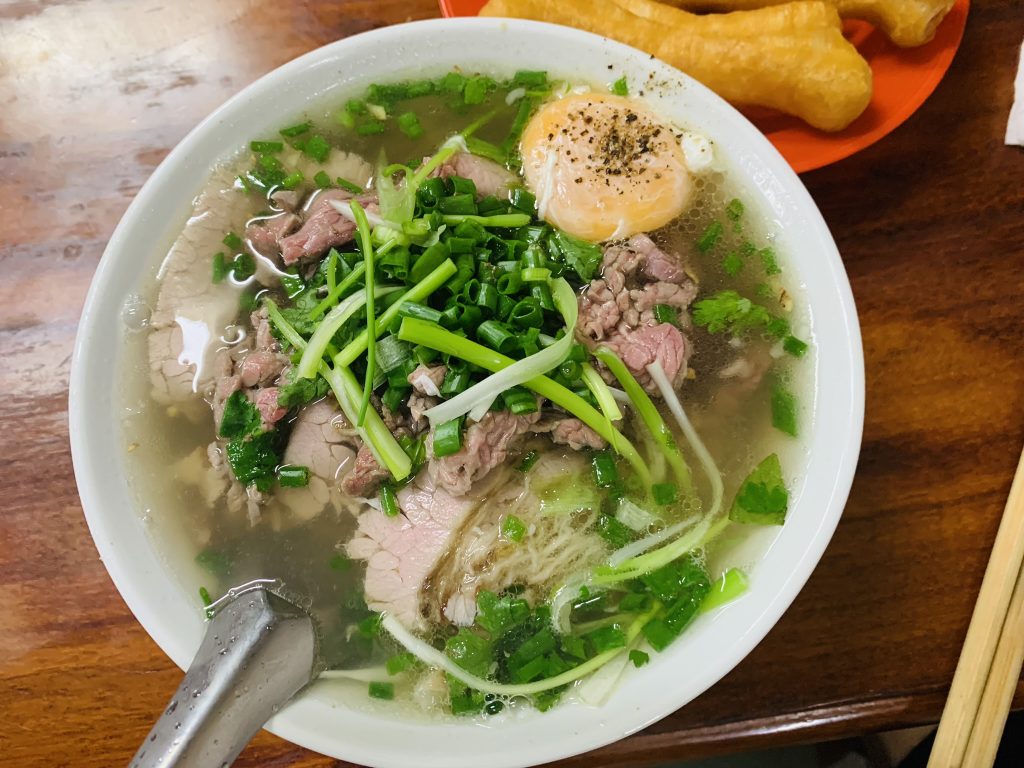 Phở  is arguably Vietnam's most famous dish. A rice noodle soup made with herbs and either beef or chicken, phò can be eaten at any time and is particularly popular for breakfast. The broth is light, but don't let that fool you—this soup packs quite a flavorful punch and will leave you satisfied. You can't go wrong grabbing a bowl anywhere in Hanoi, but if you're seeking out the best, head over to Pho Gia Truyen. Open for breakfast and dinner, seats fill up fast, and there's always a line of hungry customers that snakes out to the street. Don't forget to try the quay, fried dough sticks that are served on the side.
Banh cuon
(Steamed rice paper rolls)
Perhaps the most popular dishes to have for breakfast when you're in Northern Vietnam. These Vietnamese paper rolls are usually stuffed with minced pork and mushrooms but can also be filled with egg. It is intended for dipping in nuoc mam (fish sauce) along with fresh aromatic herbs – a staple ingredient in Vietnamese food. Enjoy at Banh Cuon Thanh Van in Hoan Kiem, while watching the owner attending to her huge steamer and produce the finest rolls.
Bun ca
(Noodle soup with fish)
Just one of the soups in the 'bun' family (with rice vermicelli noodles) with fried fish pieces. Commonly enjoyed at lunch, here the broth is prepared with green vegetables often including a variant of 'morning glory' – a popular leaf commonly stir-fried or boiled. A combination of aromatic herbs, including cilantro and dill, make the taste unique. To try one of the most fragrant bun ca head to Bun Ca Van on Quan Thanh, in Ba Dinh district. Ask for a 'thap cam' (mixed toppings).
Banh tom
(Hanoi shrimp cakes)
Banh tom is made from battered sweet potato and prawns, served with a side of fish sauce and papaya that is sweet and slightly spicy. These golden snacks are originally from Ho Tay, the West Lake area from shrimps caught locally. Today however, they are served in many markets in Hanoi. Some of the most recommended ones are sold at the beginning of a narrow street food alley in Dong Xuan market, the biggest market in Old Quarter. Make sure you arrive there early enough (before 11:30am) as stall tends to run out pretty fast! Wash the crispy cakes down with a glass of iced soy milk.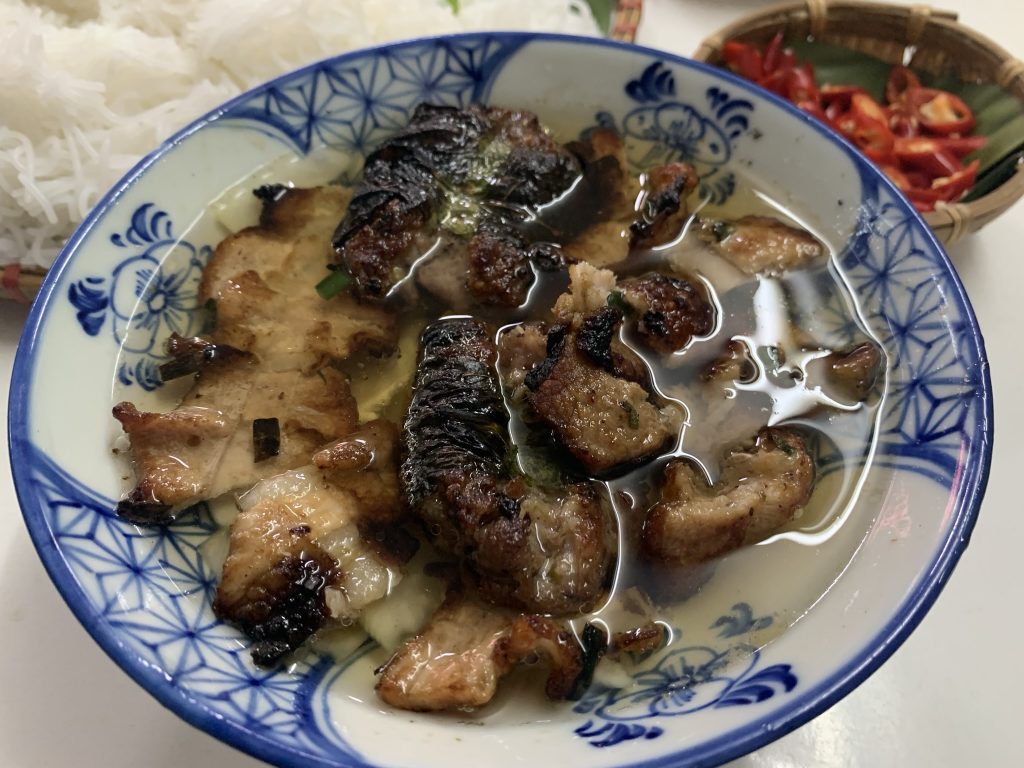 Bun cha
You've probably heard of bun cha. Anthony Bourdain and President Obama chatted over bowls of this succulent barbecue pork dish when they met in Hanoi earlier this year. Barbecue pork is served in a sweet and salty broth, alongside other ingredients you can add as you please, such as fresh herbs and greens, vermicelli noodles, hot chilies, and crushed garlic. Attack this delicious bowl with both chopsticks and a spoon and refill as needed.
Not only did President Barack Obama sample some of Vietnam's finest local eats in Hanoi, but his guide was none other than "Parts Unknown" host Anthony Bourdain.
"There is no better place to entertain the leader of the free world, in my opinion, than one of these classic, funky family-run noodle shops you find all over Hanoi," says Bourdain. "Dinner and a beer costs about $6. I'm guessing the President doesn't get a lot of state dinners like this."
President or not, you don't need a celebrity guide to make the most of this nation's eats when you travel here.
The cheapest and one of the most delicious places to find cuisine in Vietnam is in a traditional open-air market. Here, single-dish food stalls, run mostly by women, offer finely crafted dishes passed from mother to daughter for generations.
Ready to pull up a plastic stool? Here are 10 foods that will give you a perfect introduction to best street eats in Vietnam: