Vietnam mountain trails trek :
This Tour allows you to discover both Sapa and Hoang Su Phi mountain in Ha Giang , two of the most stunning parts of Northern Vietnam. You'll be blown as you trek through rice terraces and villages overlooking gorgeous mountain scenery. You'll also have the opportunity to learn about the everyday lives of the ethnic minority tribe inhabitants.
Day1 : Meet in your hotel in Hanoi, transfer to train station, sleep on train to Lao cai
Day2: Sapa – SinChai( 8km) (B/L/D)
 In the morning arrival Lao cai at 6:00 AM , breakfast the driving  to O-Quy- Ho ( 18 km from Sapa town). then begin trekking down the valley to the Muong Hoa River and from here to the Black H'mong village of Sin Chai . Accommodation is basic but a unique and special experience. Home stay in Sin Chai
Day3:  Sín Chải – Ylinh Ho – Lao Chai – Ta Van- Sapa(15km) (B/L/D)
Train arrives Lao Cai railway station aroung 06: 00. Pick up and transfer to Sapa town. Relax for a while at local restaurant then begin trekking down the valley to the Muong Hoa River and from here to the Black H'mong village Lao Chai San, Lao Chai. We then continue to Ta Van village to visit Zay people. Mini bus pick up and transfer back to Sapa. We'll stay overnight in Hotel. Approx.: 0,5 hour driving/ 6 hours trekking/ 1 hour lunch.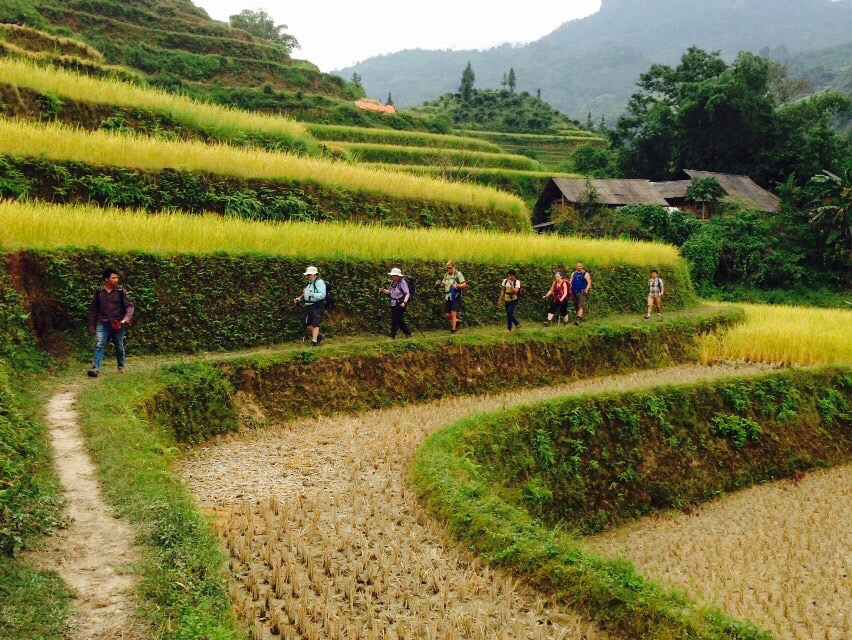 Day4: Sapa – Quang Binh – Tan Nam (B, L, D)
Breakfast, check out of your home stay  and depart at 07.30 am. The transfer takes 2 hours to the starting point of the trekking trail. It is an easy walk through the valley and terraced rice paddies for over 2 hours to a village of the Pa Then ethnic peoples. Explore the village and then take a lunch break.
In the afternoon the trek takes nearly 4 hours going up and down hill through plantations, rice paddies and especially the palm forests of the hilly land of the Tan Nam Commune. We will pass some hamlets of the Black Zao and larger villages of the hospitable Nung ethnic peoples, arriving at the centre of Tan Nam at about 5.00 pm. Explore this beautiful village in your free time before dinner. Home stay in a house of the Nung.
Day summary: Transfer 5 km/ Trekking 6 hours, approx.17 km, grade 2 of 5/ Home stay in Village of the Nung.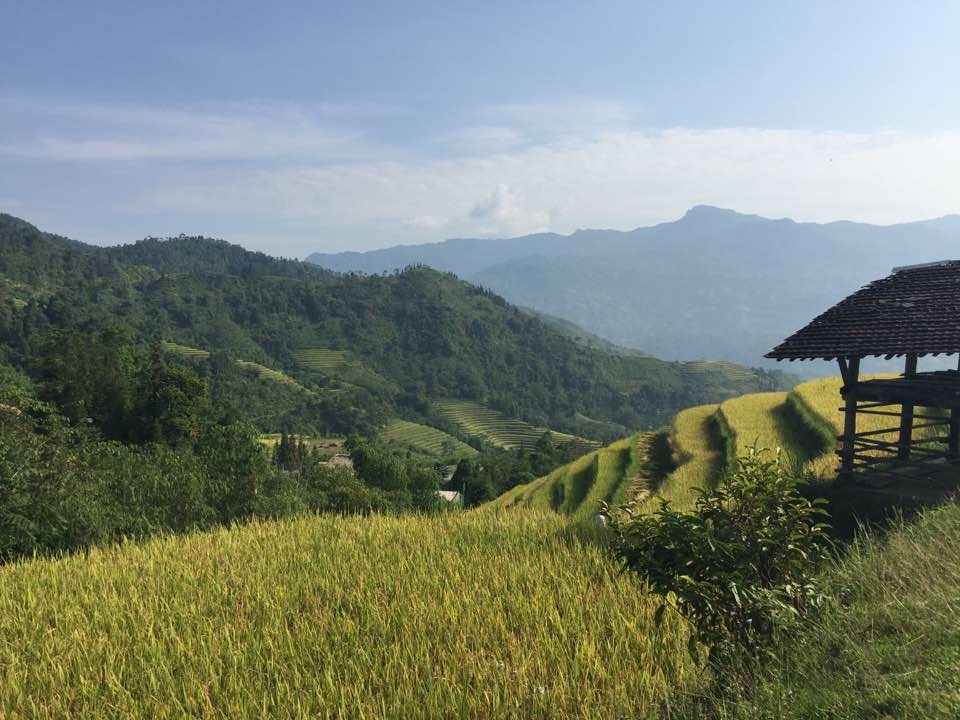 Day5 :Tan Nam – Phieng Lang (B, L, D)
Depart at 08.30am after breakfast at the home-stay. The trek today is easy along a large village path which connects this village to other villages of the Zao Ao Dai (Zao with long dress), Tay and Nung ethnic peoples, all beautifully set along the Nam Ly River. We pay visits to many local homes along the way and everywhere people welcome visitors and treat them hospitably.
The trek in the afternoon goes uphill slightly to Phieng Lang. This region is inhabited mostly by the Zao Ao Dai peoples and several Flower Hmong who traditionally and practically build their homes on hill tops and cultivate the surrounding land to create perfect dwellings. We arrive in Phieng Lang in the mid afternoon, and then take a leisurely walk to explore the surrounding countryside. Dinner and the home stay will be in a stilt house of the Zao.
Day summary: Trekking 6 hours, approx.17 km, grade 2 of 5/ Home stay in Phieng Lang of the Red Zao.
Day6 :Phieng Lang – Pa Duc – Quang Thuong – Nam Choong (B, L, D)
After breakfast, leave Phieng Lang at about 08.30 am, to enjoy another day trekking along the beautiful Nam Ly Valley. There is a good trail which winds up and down on the high hillsides gradually going uphill for the whole morning via Pa Duc village to Quang Thuong. These people are very different from the Nung and Tay, who live in large villages in the lower lands. The Hmong and the Zao Ao Dai occupy the higher lands and build their houses all over the hill-tops. This part of the trek offers one of the most beautiful views in the far north.
Lunch break and then descend along a narrow trail passing through tea farms and steep terraced paddies for 2 hours to Nam Chong Village of the Zao Ao Dai. Explore the village and settle down in a local home by the hot spring for dinner and overnight.
Day summary: Trekking 5 hours, approx.14 km, grade 2 of 5/ Home stay.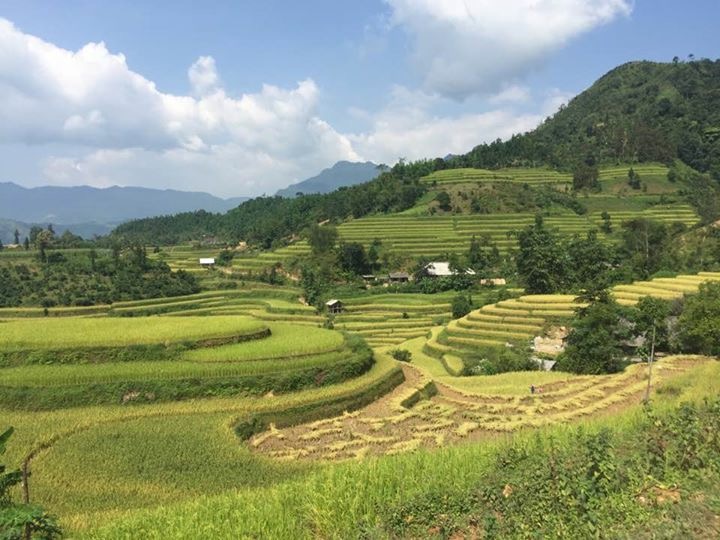 Day7 : Nam Chong – Quang Nguyen – Coc Cang – Coc Dong (B, L, D)
Depart at 08.30 am. Trek along a narrow trail along the Nam Ly River for an hour to the centre of Quang Nguyen Commune, then turn off on to a tough trail going steeply uphill for 2 hours through Quang Vinh Village passing the villages of the Nung on the low land and Red Zao and Zao Ao Dai on the higher land.
Lunch break and then we must be prepared for the most challenging part of the tour: To get over the Nhin Co San mountain. The trail becomes narrow and very tough in parts, going uphill through the thick rain forest and later bamboo forests for nearly 3 hours till we reach Coc Cang village of Che La Commune.
Continue along the same trail for 1,5 hours passing some hamlets of the White Hmong to Coc Dong Village of the Nung peoples. Dinner and home stay here.
Day summary: Trekking 6 to 7 hours, approx.17 km, grade 4 of 5/ Home stay in Coc Dong Village of the White Hmong..
Day8: Coc Dong – Coc Re – Coc Pai (B, L, D)
It is an excellent day today! Leave Coc Dong for nearly 1 hours uphill trek along a trail sneaking amidst the high mountains, passing several hamlets of the Flower Hmong, who always occupy the highest elevation. Arrive at Coc Re at noon and enjoy a lunch break in a local restaurant after hanging around the Coc Re market place to catch a glimpse of local life here.
Descend for the whole afternoon, passing through some narrow valleys with marvellous terraced paddies and newly planted forests til we reach Coc Pai, the townlet of Xin Man District. Driving to Bac Ha  . Hotel in Bac Ha
Day summary: Trekking 6 hours, approx.17 km, grade 3 of 5
Day 9:(B)Morning free time relaxing in Bac Ha. Afternoon driving back to Lao Cai. Take overnight train to Hanoi.
Looking for extension tours to Vietnam ? Visit website
TOUR OVERVIEW
We working and keep reservation from clients in internet by email
 We may not always have cruise , tours, holidays, travel available at certain time. Please contact us as early as you can.
All bookings must be paid deposit 50 USD/person for a cruise, 100 USD for tour before start your trip.
Deposit we be pay by paypal
Booking or customize this tour , please contact: marcopolotravel@gmail.com
Duration:9 days
Accommodation: in home-stay, nights in hotel , nights on train
Activity: mountain hiking  
Including:
·         English speaking local guide.
·         Accommodations as mention on itinerary with home stay , and 2 star hotels, 2 night in train
·         Meals as noted B= breakfast, L= lunch ,D=dinner.
·         drink as water for walking, trekking
·         Snack during walking and trekking day
·         Sightseeing and activities as noted in the itinerary.
·         100% ground transportation by bus
·         train tickest Hanoi- Lao cai- Hanoi
·         Additional guides where necessary.
Best time to goYear around Price:
| | | |
| --- | --- | --- |
| Group Size | 2 |  4- 6 |
| Price /person | 1,695 USD | |
Note: Prices are based per person, double occupancy, with a separate cost for solo travelers. If you are traveling in a group but prefer single accommodations, a single supplement fee applies. Triple accommodations are not available in many of the destinations we visit.